CREATIVE SEQUENCE
---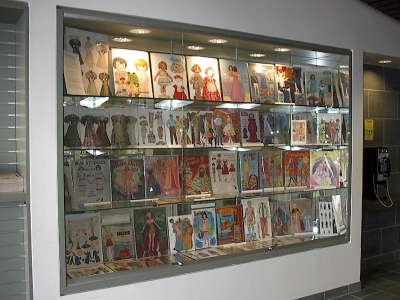 In April 2004
I made an exhibit at the Reseda California public library about paper dolls
and how they reflect the times in which they were produced.

---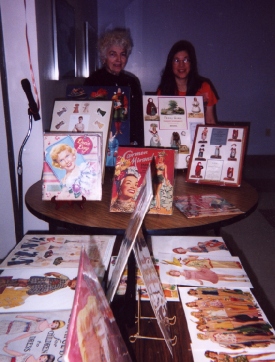 Faye Sharabi saw the exhibit and soon I was scheduled for a presentation
at the Jewish Family Services' adult day care center.
Agnes Garr provided information about paper dolls before 1920.
My discussion of modern paper dolls evoked youthful memories in 85 year-old ladies.
I showed the men glamour WWII era paper dolls and their eyes lit up.

---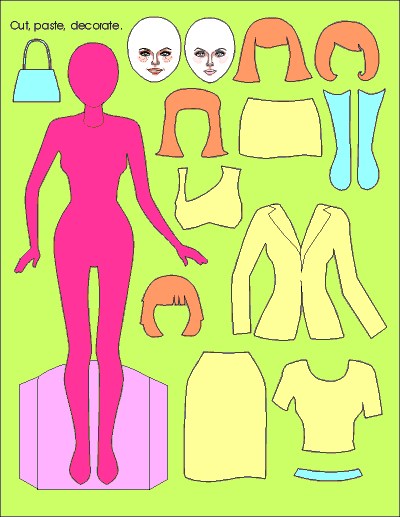 Agnes and I were invited back to give a workshop on making paper dolls.
I designed special paper doll patterns for the event.
Faces from pre-existing Coreldraw files were used for the heads.

---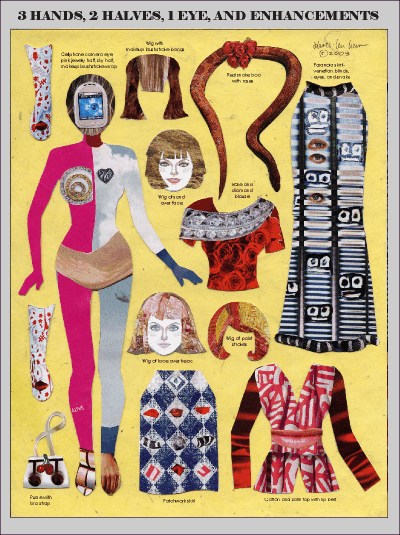 OPDAG (Original Paper Doll Artists' Guild) scheduled a collage theme for a mid 2005 magazine issue.
I am on the editorial board of Paper Doll Studio magazine, and I decided to sumit artwork.
A die-hard fan of line and drawing,
I skeptically grabbed the paper doll patterns, an Elle magazine, and started to cut.
The surprising juxtapositions made for a surreal paper doll set.
---

An inspirational flash brought the name flatdoll to me.
I made an experimental logo, combining the arial font with a variation of the pattern paper doll figure.

---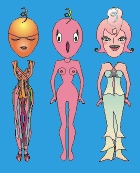 Sylvia Kleindinst organized a paper doll show at the Impact Gallery in Buffalo NY.
I developed an art piece for the show.
My aim was to show paper dolls from the all parts of the human spectrum.
A surprised generic human is faced with many possibilites.
Simple forms to embody these ideas were again developed from that paper doll pattern figure.

---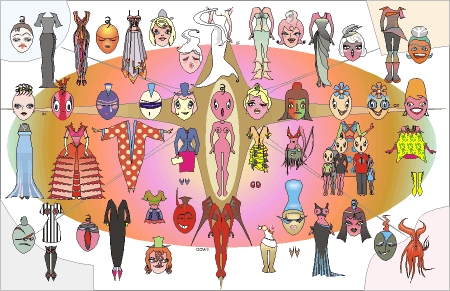 I decided to make flatdoll.com
My prior AOL website was old. It was time for a creative committment with wider horizons.
I was nearly 55 years old.
The title page looked curiously like trendy cartoons that I like a lot but are made by kids.
Oh, well.

---




Kwei-lin Lum copyright April 2005