DAY OF THE DEAD
---
| | |
| --- | --- |
| | |
THE DAY OF THE DEAD IS CELEBRATED YEARLY ON NOVEMBER 1ST AND 2ND, MOSTLY IN MEXICO. THE FESTIVITIES WELCOME THE DECEASED BACK TO THE WORLD OF THE LIVING.

THE PAPER DOLL SET ON THE LEFT WAS RELEASED BY DOVER PUBLICATIONS IN 2009. KWEI-LIN DREW A SKELETON COUPLE AND DRESSED THEM IN VARIOUS MEXICAN-INSPIRED COSTUMES. LA CATRINA, THE FEMALE FIGURE, IS A RECURRING CHARACTER IN THE DAY OF THE DEAD AND TYPICALLY WEARS A BIG DECORATED HAT AND LONG DRESS.

A VECTOR DRAWING OF VARIOUS TOWN SCENES WAS ORIGINALLY DESIGNED AS A FOLDED STEP ALTAR. DOVER PUBLICATIONS TURNED IT INTO A SET OF STICKERS. THE BOOK WAS EXHIBITED AT THE MEXIC-ARTE MUSEUM IN AUSTIN TEXAS OCTOBER 2011.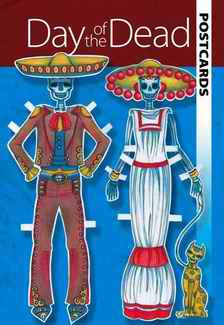 AFTER THE PAPER DOLL AND STICKER BOOKS WERE RELEASED,
DOVER PUBLICATIONS PUT OUT A SMALL SET OF PAPER DOLL POSTCARDS.



ON THE LEFT ARE EL CATRIN AND LA CATRINA.
ON THE RIGHT HE DONS A ZOOT SUIT AND SHE IS ALL DOLLED UP.



ON THE FAR LEFT EL CATRIN AND LA CATRINA DRESS AS AZTECS.
IN THE MIDDLE THEY ARE ARTISTS REMINISCENT OF DIEGO RIVERA AND FRIDA KAHLO,
AND ON THE RIGHT THEY ARE A BRIDE AND GROOM.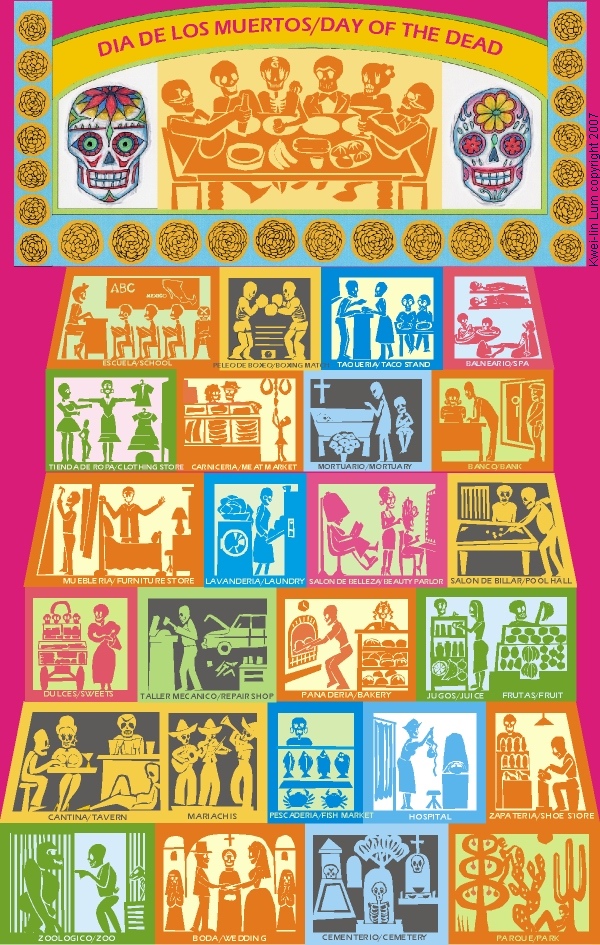 DAY OF THE DEAD STICKERS SHOW VARIOUS SCENES IN A TOWN
ZOO--TAVERN WITH MARIACHIS--FISH MARKET--HOSPITAL--POOL HALL---MORTUARY--SCHOOL
CLOTHING STORE--BAKERY--BEAUTY SALON--LAUNDRY--WEDDING--TACO STAND
CEMETERY---PARK--SHOE STORE--SWEET STAND--JUICE STAND--REPAIR SHOP
FRUIT MARKET--FURNITURE STORE--MEAT MARKET--BANK--BOXING MATCH--SPA


There are many Day of the Dead events across the United States.
The popularity of the holiday is growing.
Elements of Halloween are creeping in although the Day of the Dead originally had no ghoul factor.
Look out for a celebration near you.



Purchase "Day of the Dead Paper Dolls" for $9.99 at doverpublications.com.
A full double page of stickers is included.
Purchase "Day of the Dead Sticker Book" for $4.99 at doverpublications.com
Purchase "Day of the Dead Postcards" for $6.95 at doverpublications.com. There are 12 cards.




KWEI-LIN LUM 2007,2008,2012