RECENT PAPER DOLLS
---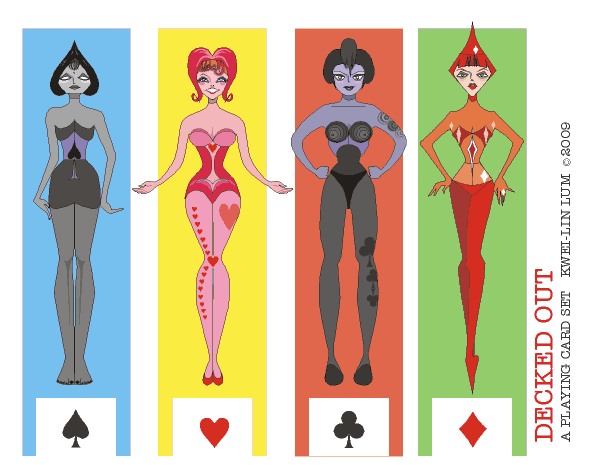 "DECKED OUT" IS A SET OF PAPER DOLL PLAYING CARDS.
THERE ARE 4 FIGURES, REPRESENTING SPADES, HEARTS, CLUBS, AND DIAMONDS.
THE PICTURES ON THE CARDS ARE OUTFITS FOR THE FIGURES.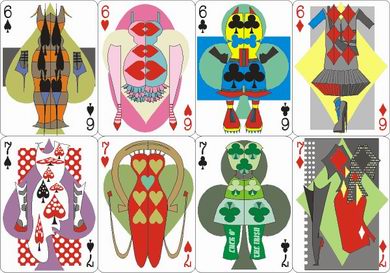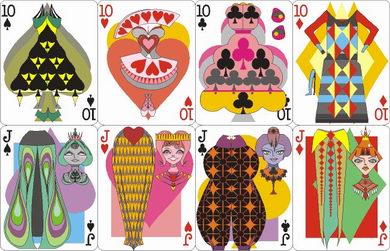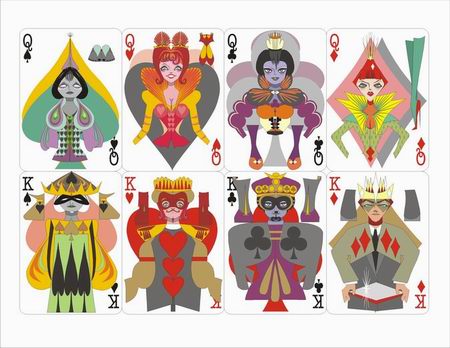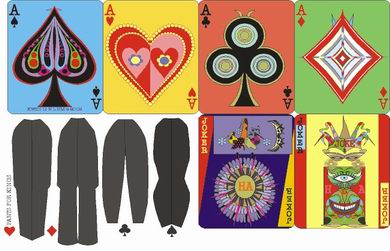 THE PAGE WITH ACES AND JOKERS INCLUDES PANTS FOR THE KINGS.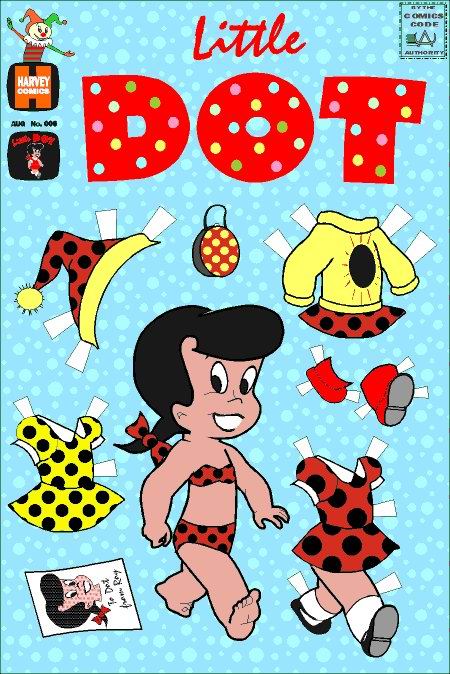 LITTLE DOT COMICS NEVER HAD A PAPER DOLL COVER SO I MADE ONE FOR PAPER DOLL STUDIO MAGAZINE.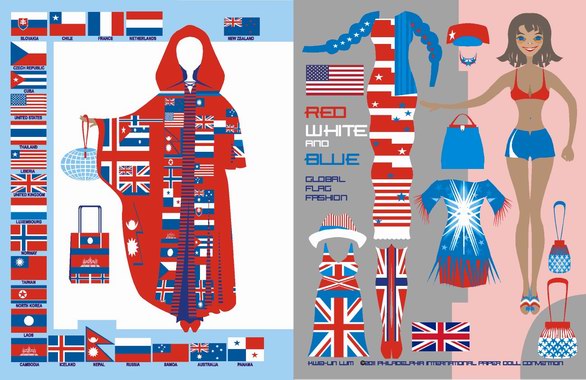 MANY COUNTRIES HAVE RED, WHITE, AND BLUE FLAGS:
USA, RUSSIA, ENGLAND, CUBA, FRANCE, TAIWAN, AUSTRALIA, NORTH KOREA
LAOS, CHILE, NETHERLANDS, NEPAL, SAMOA, NORWAY, AND CAMBODIA, AMONG OTHERS.
"RED, WHITE, AND BLUE--COLORFUL FLAG FASHION" WAS A SOUVENIR FOR THE 2011 PHILADELPHIA PAPER DOLL CONVENTION.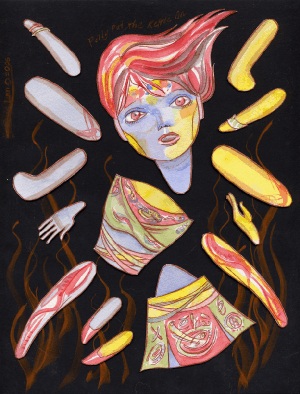 POLLY IS A PANTIN, A JOINTED PAPER DOLL.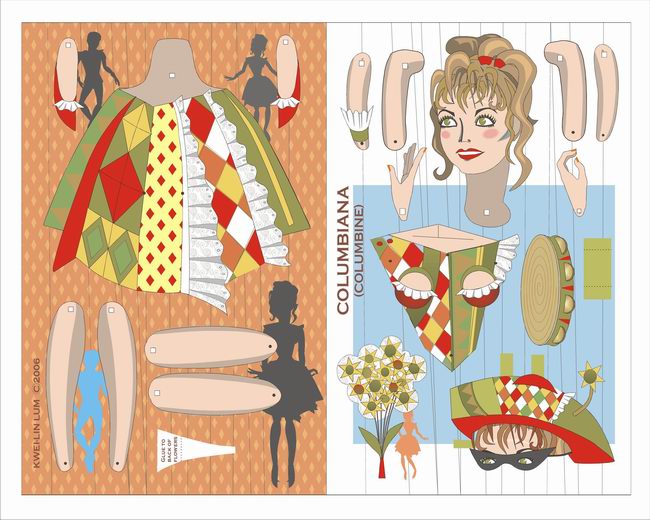 SO IS COLUMBINE.
COLUMBINE IS A COMMEDIA DEL ARTE CHARACTER ORIGINATING HUNDREDS OF YEARS AGO.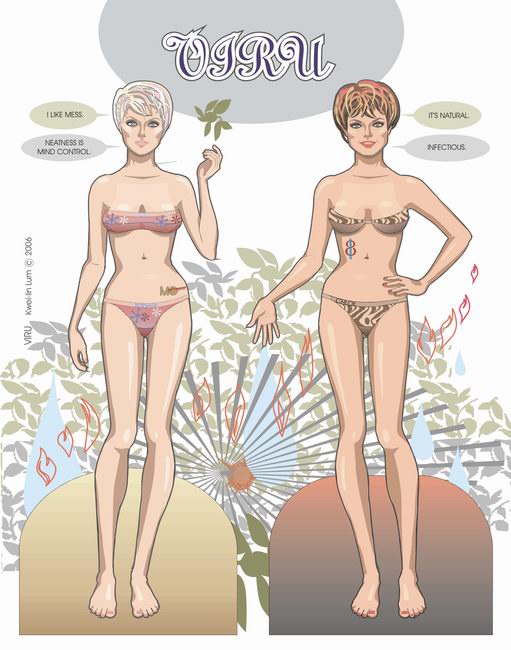 IN "VIRU" MY CHARACTERS, ISABELLE AND CHLOE, BECAME MODELS FOR
A FASHION EXPLORATION OF HUMAN INTERACTION WITH NATURE.
THE GOWN WAS INSPIRED BY CHROMOSOMAL COMPLEXITY.







PAPERWEAR WAS A 2007 PAPERCRAFT WORK USING SILHOUETTE FIGURES.
MOST OUTFITS WERE MADE WITH A FOLD AND CUT PROCESS STRAIGHT OUT OF FIRST GRADE.
A CO-WORKER GAVE ME A MICHAEL'S GIFT CERTIFICATE DURING A CHRISTMAS EXCHANGE.
I CHOSE A HANDMADE PAPER PAK . MANY WEEKS OF CREATIVITY ENSUED.




DIG IT, MAN! COOL IT, DADDIO!
SOUVENIR FOR 2012 TEXAS PAPER DOLL PARTY HOSTED BY TOM TIERNEY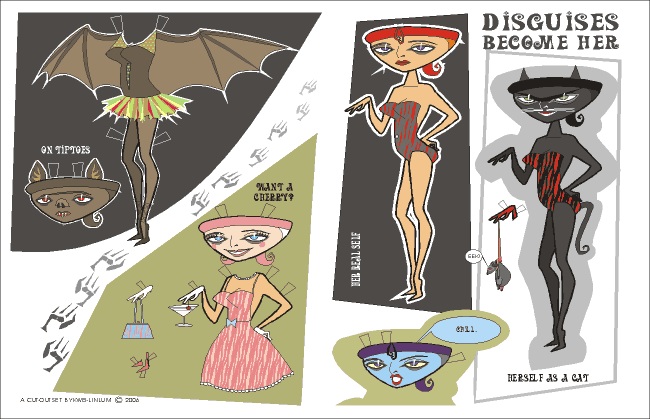 HALLOWEEN FUN IN FIFTIES RETRO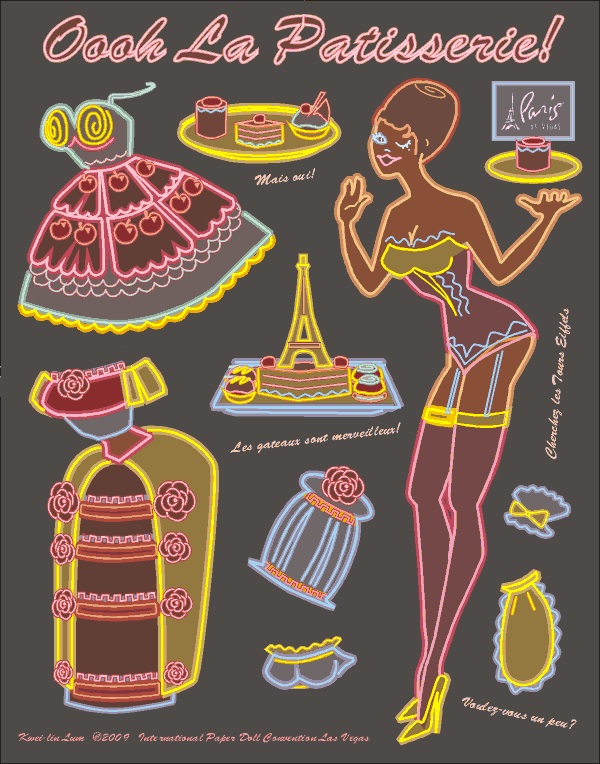 PARIS PASTRY GIRL AS VEGAS NEON--SOUVENIR FOR THE 2009 LAS VEGAS PAPER DOLL CONVENTION







LET THEM EAT CAKE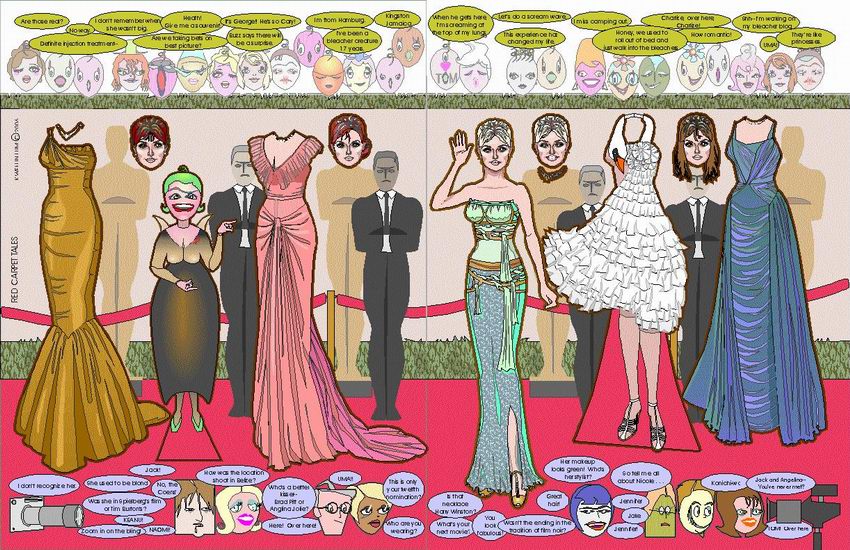 THE RED CARPET AT THE OSCARS WITH
ACTRESSES, THEIR HANDLERS, PRESS, AND SCREAMING FANS IN THE BLEACHERS.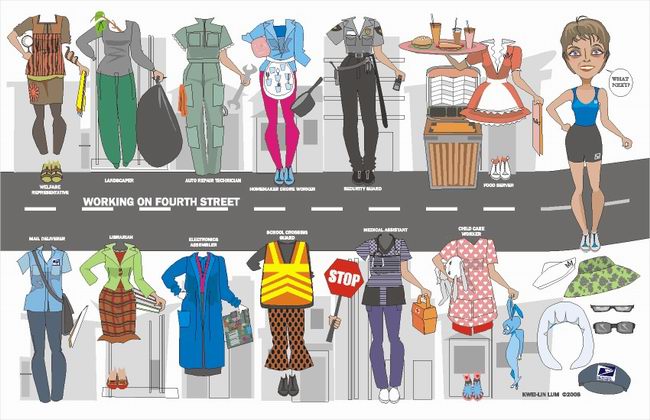 WORKING ON 4TH STREET--RUNNING FROM JOB TO JOB
CENTERFOLD FOR DEANNA WILLIAMS' CORNERSTONES 2009





TATU--ACRYLIC AND INK ON MUSEUM BOARD
WHEN YOU STEP OFF THE PLANE IN HONOLULU, YOU QUICKLY BECOME A LOCAL ARTIST.


MAKIKI 2007--COMMERCIAL HANDMADE PAPER, WAX
A MIX OF HEAVY TROPICS NEAR MY CHILDHOOD HOME




FROM LEFT TO RIGHT
DAPHNE DOES DESIGNERS/DAPHNE AT THE MALL/DAPHNE AT THE DISCOUNT MALL/
DAPHNE WANTS IT HER WAY AND TURNS TO CUSTOMIZATION/DAPHNE ENDS UP WITH TOO MANY TOPS SO SHE ADDS SOME BOTTOMS
THERE IS NO END TO SHOPPING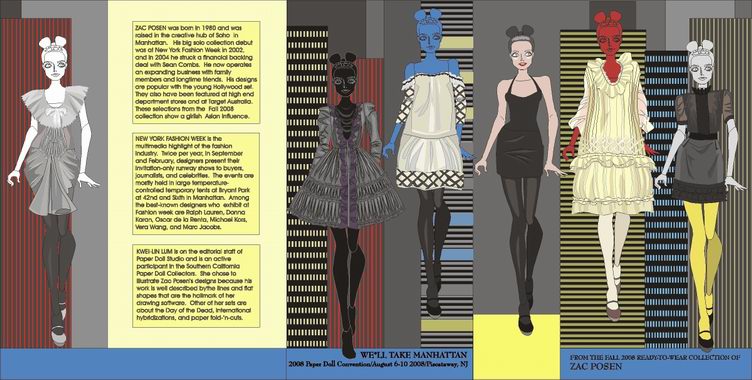 FASHIONS FROM ZAC POSEN--SOUVENIR FOR THE 2008 NEW YORK/NEW JERSEY PAPER DOLL CONVENTION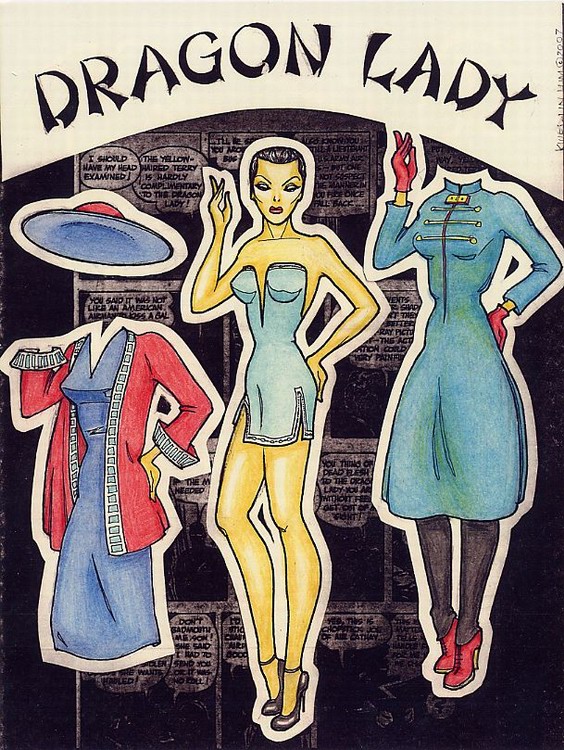 DRAGON LADY IS A WORLDLY CHINESE VILLAIN FROM THE COMIC STRIP
TERRY AND THE PIRATES, CREATED BY MILT CANIFF.
IT IS SAID THAT SHE WAS BASED ON JOAN CRAWFORD, YEE GADS.




LITE METAL SPIRITS DRESS NICELY FOR SPRING--FOLD AND CUT FROM ORIGAMI PAK CHIYOGAMI PAPER








THESE IMAGES CAN NOT BE COPIED AND RESOLD. THEY ARE FOR INDIVIDUAL HOME USE ONLY.
Little Dot, the academy award, Zac Posen's dresses, and Dragon Lady are probably copyrighted, trademarked, or otherwise protected by law.
They were used as subjects to make fun hobby paper dolls which are not for sale.
The rest of the material on this page is created by and copyrighted by Kwei-lin Lum.




KWEI-LIN LUM 2006, 2007, 2008, 2009, 2010, 2011, 2012